Mechanical Bull Rentals: - How Much Does It cost To Rent A Mechanical Bull From Prime Time Interactive?
Searching for mechanical bull near me? We you just found the spot. We offer rentals of 3 models of mechanical bulls and rides and have the great options for bull styles and services in northern California.

We Operate our SILLY, FUN and memorable rodeos at your special event. Full Insurance and total control of the speed for small children and adults to keep it safe - plus one speed for the best of riders out there..........There's one at every cowboy party!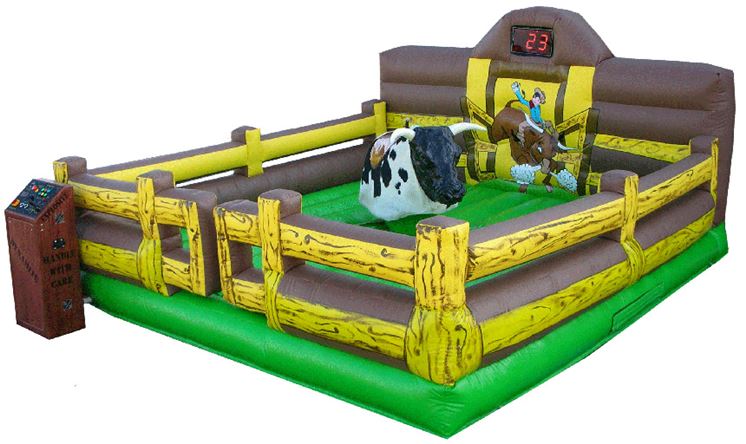 Well Howdy Partner!
The cost and prices vary from $950 to $1,495 for the best country western inflatable mechanical bull with the most beautiful and unique inflatable themes.

1. The classic round American flag style - basic inflatable everyone has it....KINDA BORING but, only $950

2. Or spice it up with an mechanical bull/surfboard combo for $1,195.

3. Or the BEEFY, Extra Mad, "Billy the Bull" that broke out of the barn- Our DELUXE cowboy themed mechanical bull ride for $1,495
Looking for a Mechanical Bull?
We rent mechanical bulls, mechanical rodeo bulls, mechanical bull riding and bucking bull machines for special events, school carnivals or just a good old time.
Full Service Mechanical Bull Rentals in Northern California
Call today to rent a mechanical bull for your next event!
Hang on or get thrown off! Now you can be the rodeo king......or are you the rodeo clown? LOL!


So when your ready to step out from the herd, Give us a holler!


  Mechanical Rides
Mechanical Bull Rentals | Prime Time Interactive