Best Bounce House Rentals : Discover the "Top 10 List" Best of Inflatable Bouncy Sports Game Rentals in 2024
What are the top 10 best bounce house
rentals and inflatable game products for 2024 in Northern California?
Top 10 List
Top 10 Inflatable Games, Sports Games and Bounce House rentals:
Prime Time's bounce house rentals are all about fun! We service the entire northern california area and the bay area with the newest cutting edge bounce houses and jump houses for rent.
You can rent individual games or a discounted package of items - (we will always work within your budget if possible)
Delivery, set up and staff is included.
Discover bounce house rentals like all of our recommended inflatables listed below.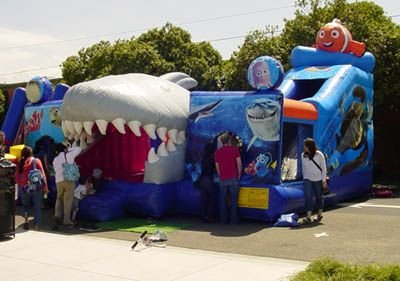 The kids love this as much as the parents do. Amazing digital artwork! This is not a bounce house, it's a huge playzone!
The licensed Finding Nemo Bounce House Experience aquatic journey holds 10 - 12 kids and begins by entering through the jaws of a great white! This jumpy house and sliding inflatable palyground bouncer offers several activities to choose from, a climb and slide allows kids to pretend they're riding the EAC with Crush, Squirt. Hurdles, barrels and pop ups take participants on their own ocean story with Marlin and Dory. The three-dimensional shark opening and killer digital artwork will get the party guests attention and draw a huge crowd to your event! Along with a killer 3D version of Nemo on top of the unit letting everyone know it's the 600 square feet of adventure across the the amazing artwork in a larger than life finding nemo inflatable jumper experience!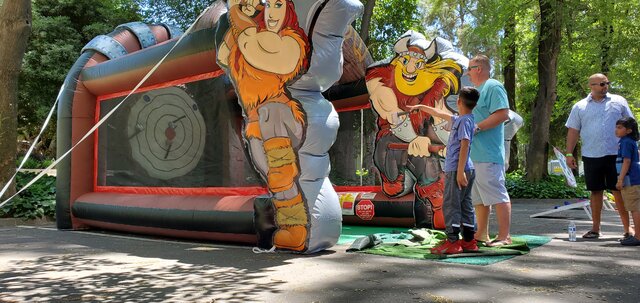 Axe throwing inflatable rentals
The inflatable Axe throw game will bring out your competitive side while still having a great time with other participants!
Test your Renaissance skills with this new exiting game!
The inflatable VIKING MAN Axe Throwing game has high-quality wood-like graphics printed onto the inflatable. Use a soft Axe with a velcro tip to stick to the target.
Each player takes turns throwing the toy axes— we have included four red and four blue. Our foam axes contain the loop fastener around the edge of the axe. The player must aim and try to score the most points.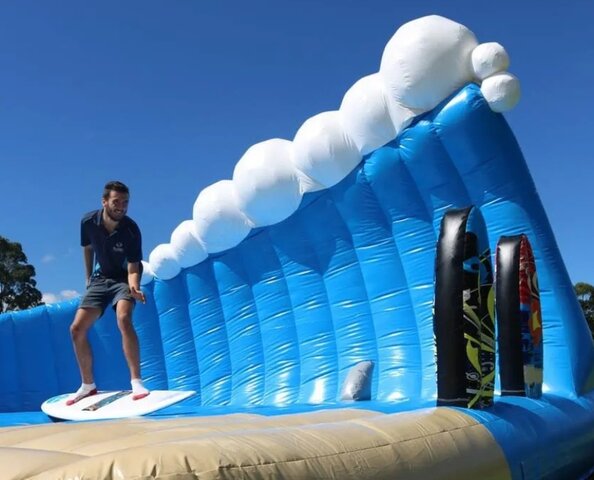 Hang ten without getting wet! See who can stay on the longest and hang ten on our mechanical surf board ride. The longer you ride, the harder it gets. Makes a great photo opportunity also with our giant ripcurl wave!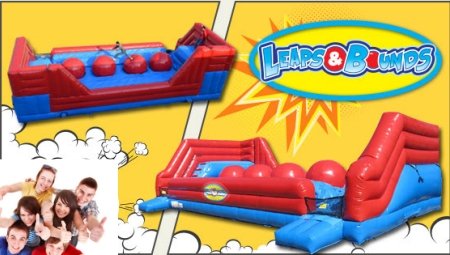 Big baller wipeout inflatable game rentals
The most popular piece in years. A real crowd pleaser!
Have you ever wanted to try your skill on the big balls course on Wipeout? With the wipeout obstacle course you're going to get your chance. This fun new game features a series of four inflatable red balls which challengers must jump across to reach the other side. Climb up the ladder on one of the side platforms high above the biggest ball pit you've ever seen. Then try to cross the course by jumping or running across those big red balls. Your goals is to hop across all four big balls to the platform on the other side. But don't worry if you fall off! This ball pit is a super-soft jump zone cushioned by our patented Zero-Shock technology. So challenge all your friends to the Big Baller. Then wipe out the competition!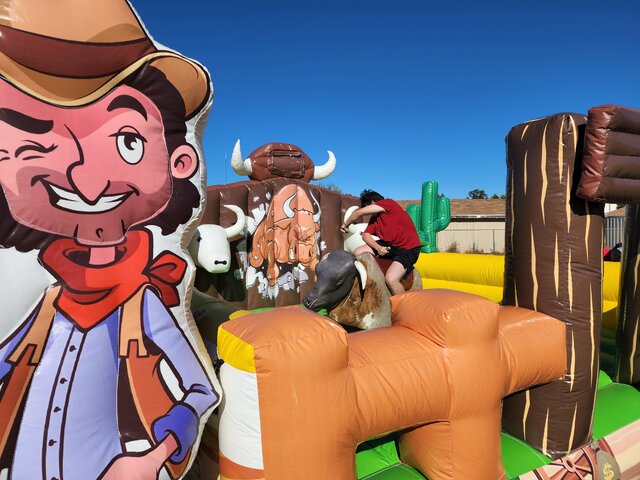 Prime Time Interactive operates the safest and most realistic mechanical bull rentals available in california for rodeos, college parties, corporate events, schools, private parties, rodeos, cowboy western events, rock and country music concerts, fairs, company promotions, or any special event.
Renting a rodeo mechanical bull is loads of fun! Completely safe for both children and adults, this all-electric (no hydraulics), direct drive, computer controlled attraction is as safe as it gets.
Mechanical bucking bull machines that are perfect for the youngest rider to an experienced cowboy. We can slow the machine down so that youngsters can get on for a ride and with a turn of the control knob, bring the speed up to challenge even the most seasoned rider. How much is a mechanical bull rental? Give us the opportunity to get you a quote.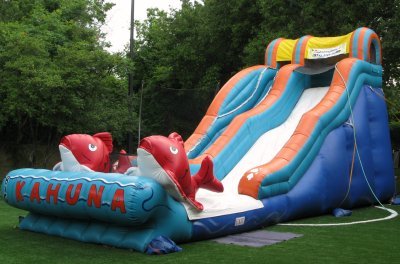 Water Slide Rentals | Prime Time Interactive
The big kahuna water slide! The perfect beach themed inflatable.
Find water games, water slide jumpers and water slides for rent in northern california from Prime Time Interactive.
Inflatable bounce water slides for all ages!
The Big Kahuna banzai water slide rental is not your ordinary water slide for rent! Take a seat catch your breath and prepare for the ride of your life. Push off onto the banzai sliding lane as it propels you over the inflatable wave before landing at the bottom of this eye catching inflatable water slide with a pool of water to land into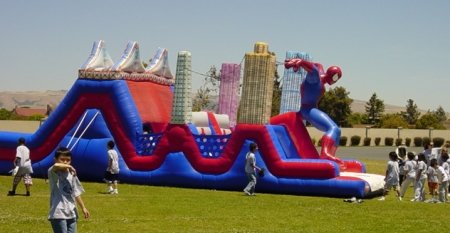 Inflatable spiderman obstacle course rentals
Spiderman......... spiderman...........does what ever a spider can!
This high capacity obstacle course allows for many players at once. Set this visual spiderman inflatable up at your event and the kids come running!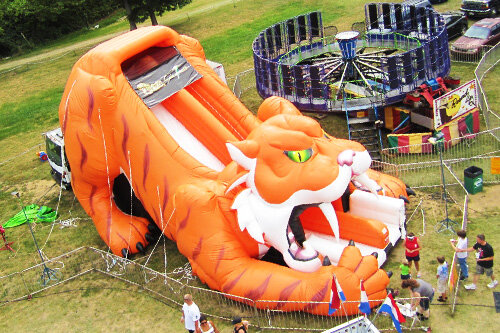 The Sabre Tooth Tiger Inflatable GIANT Slide -
This is one of our most sought after attractions for School carnivals, Church Festivals, Corporate Events, community events and more! It adds that WOW Factor to your event no matter the occasion. The kids absolutely love being able to climb all over a Giant Tiger, then Slide down through it's mouth without getting eaten! The crazy banter among the kiddos as they wait for their turn on the Sabre Tooth Inflatable slide is amazing.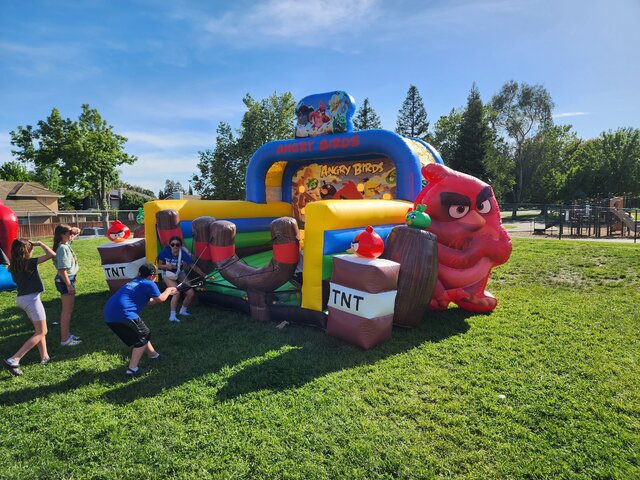 Angry Bird Game Rentals:
Red, an angry bird, has been an outcast from Bird Island ever since he was a hatchling due to his short temper and his huge, jet-black eyebrows! Well your job is to help him knock out those ugly green pigs with our giant inflatable sling shot and keep bird island safe!
Fun for kids and adults

Inflatable Obstacle Course Rentals - Prime Time Interactive
Through the entrance holes, biff and bash your way through inflated pillars, up the ladder, over the slide, underneath the cargo netting, dive through barrels, log jams, pillars, arches, and finally through the exit holes, and now your through! Now get up solider, and do it all over again! With a through put of 300 people per hour this attraction is a must for large events
With competitive prices, awesome package deals, energetic experienced staff, and on time professional services please consider Prime Time Interactive for your bounce house rentals in the bay area!
Check out the games!
Bounce house rentals are a great way to add some interaction between your party guests. Most jump houses make for a great spectator sports as well! Turn your party into a inflatable blow up carnival with a model or two from our brand of rental game products and bounce houses. www.primetimeinteractive.com has a great selection of party rental games in all sorts of styles and flavors. From toddler bounce houses to adult icebreaker games. Browse our inventory and click on an image below to get more information, photos, videos and to start a reservation.
Bounce House rentals and inflatable party rentals in the bay area and all of northern california
Prime Time is Northern California's premier interactive entertainment rental company specializing in bounce house rentals and wild & wacky blow up inflatable party rental games for church carnivals, company picnics, school parties, youth group events, and school carnivals in. Our bounce houses pump up the fun! Select from over 50 types of bounce houses and inflatable activities for your special event.
Check out our inventory of inflatables
Prime Time is Northern California's premier interactive entertainment rental company specializing in wild & wacky blow up inflatable party rental games for church carnivals, company picnics, school parties, youth group events, and carnivals, company parties, corporate events, team building events, foam party, church fall festivals, graduation party games ideas, school carnivals, sweet 16 parties, bar mitzvah, bat mitzvah, trade shows, youth groups, festivals, little opening day activities, kids birthday party games ideas, school and church fundraisers, Eid Mubarak/Ramadan Festivals, school carnival games for rent, cowboy western themed parties, or for any other spectacular special event. Prime Time's inflatable games for rent are all about fun and all for fun! We service northern california with the newest cutting edge interactive inflatable carnival games and inflatable rides for rent. With inflatables for rent in Northern California, from the central valley, to sacramento, to the bay area, to your area........ a great selection of the newest cutting edge attractions, interactive inflatable games and blow up toys, inflatable water games, carnival games and inflatable mechanical bulls for rent, competitive prices, awesome package deals, energetic experienced staff, and on time professional service. Prime Time offers a truly memorable experience with our fun kids inflatables for rent. So if your looking for inflatable rides and kids game rentals and your bored with the alternatives, invite Prime Time to your next event and experience problem free, trouble free interactive FUN every time!

We have 30 years of experience with inflatable games, bounce houses and special events!

Call our office today and speak with a party professional that would be proud to plan your next inflatable adventures event. And don't forget we are always prepared to travel and inflate the fun with our big inflatables for rent! So call us anytime to book an event for your area. We look forward to speaking with you. Until then party on!
How can we make your event more memorable, successful and FUN?
Branch Location: Prime Time Interactive of Northern California, CA.
Corporate Headquarters Location: 940 Easy St. Paradise, CA. 95969
Service area - San Francisco bay area, central valley, the north state and all of Northern California
Send us an email 7 days a week - 24 hours a day
fun@primetimeinteractive.com
Office phone hours -
Monday - Friday - 10 am - 4 pm
Office Closed Saturday and Sunday
Prime Time's google reviews