WHO ARE THESE GUYS? DUDES, MYTHS, LEGENDS OR......... MEGA COOL Inflatable Game specialists?
We are committed to achieving sainthood by being interactive bounce house guys!

You probably want to know a bit about us if you're going to work with us so here we are in our full, unadulterated, unfiltered, uncensored form.
Follow....... Connect....... Beware........

Our Mission is SIMPLE...........
- We'll let the work speak for itself.
- No hard sell.
- No spin.
- Plenty of creative thinking and doing.
We'll work smart and hard for you so you look AWESOME
...........Awesome as in the coolest kid at school kind of way
Prime Time Interactive Needs YOU!
Like the Bacon to the Egg,
we need great clients to make great things happen!
"We'll be blunt: We want YOUR business!"
We can't help everyone but, we promise to do our best job to earn your trust!
We think we should work together.
So let's talk a bit about you and your special event!
1 Million $ Policy for every event emailed with your contract! Additionally insured certificates free of charge -
just let us know if you need that when you place your order.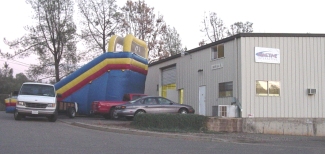 Prime Time Interactive
Servce area - All of northern California
www.primetimeinteractive.com

Office phone hours -
Monday - Friday - 10am - 4pm
Office Closed Saturday and Sunday
1-800-916-4110


Minimum Order $1,200
................................................................
Busy....cant make a call? send us an email. We usually email a response within 30 minutes.
Send us an email 7 days a week - 24 hours a day
fun@primetimeinteractive.com
Cut and paste the info below into your email message and fill in the blanks and we will email a quote ASAP.
1. School, church, company etc -
2. Contact Person's Name and address-
3. Event Address -
4. Email Address -
5. Phone# -
5. Event date and times (standard rate 4 hours)-
6. Games and/or packages we are interested in -
7. Budget - ($1,200 minimum order required)
Inflatable bounce house rentals - Prime Time Interactive
Inflatable games and bounce house rental delivery area in all of northern california
Areas We Serve

- DELIVERY AREA -
For 29 years we have provided our services to all of northern California....from the south bay area to the Oregon border