Giant Games & Unique Inflatable Rentals -
Prime Time Interactive

You've just Discovered the "secret weapon" to pimp out your special event.... Provide a fun and memorable event for all of your party guests with our wild and wacky game ideas.
Giant games rentals northern california
Prime Time is Northern California's premier interactive entertainment rental company specializing in wild & wacky unique novelty blow up inflatable party rental games for rent in the san Francisco bay area and all of northern California.

Warm Up Your group with some silly Ice Breakers and fun carnival games!

We provide unique, custom, novelty giant game rentals in northern california and the bay area - Prime Time Interactive
  Unique Games Sports
Inflatable Sports Games for Rent:
Unique Inflatables and Sports Game Rentals
All types of fun sports games for kids and adult party rentals
We have alot of fun, silly, new and original items on this page ......Take your time!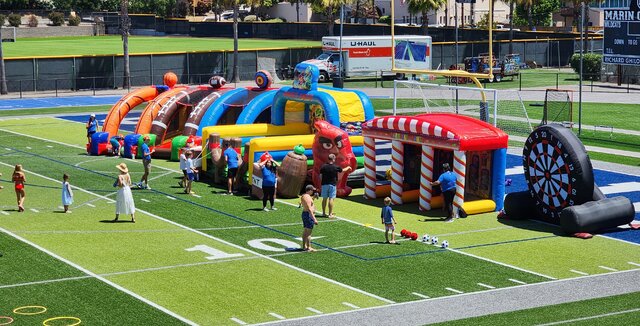 Elevate Your Event with Action-Packed Inflatable Sports Games! Welcome to Prime Time Interactive, your go-to destination for adrenaline-pumping fun and unforgettable sports events! Transform any gathering into a sports enthusiast's paradise with our premium collection of inflatable sports games for rent.
All-Star Selection: Discover a winning lineup of inflatable sports games that cater to every sports fan's passion. From basketball shootouts to quarterback challenges and soccer showdowns, to axe throwing, to angry birds slidg shots and more! We rent the perfect inflatable sports games to score big at your event.

Unmatched Quality Games: Game on with confidence! Our inflatable sports games are crafted from top-tier materials and unique one of a kind designs and models, ensuring durability and safety for players of all ages. We prioritize quality to guarantee a seamless and enjoyable experience for everyone.

Event Excellence: Make your event the talk of the town! Our inflatable sports games are designed to add a dynamic and engaging element to any occasion, be it corporate team-building events, school fundraisers, or community festivals. Take your event to the next level with the power of inflatable sports play.